This is not a hack but rather a legal and genuine way to get 27GB of free Airtel 4G netpack.
Requirements:
New 4G Phone
4G Airtel Sim
My Airtel App
NOTE  THAT THIS WILL ONLY WORK WITH THOSE 4G PHONES PURCHASED AFTER OCTOBER 31  2016
Follow these simple steps.
Install My Airtel App. – My Airtel App Android APP | My Airtel App iOS APP (using any net connection / wifi ..)
Insert Airtel Prepaid Sim to your newly bought Smartphone & Turn on Airtel mobile data.
Open the My Airtel app. You should get a banner like – "Got a new 4G phone? Buy 1GB & Get 10GB" (Click on that banner)
If you see the banner  then you become 100% sure that your phone is eligible to get this offer
How to recharge your mobile with 1GB data pack – 
Firstly know the correct amount of 1GB 3G/4G data pack price of your circle. (click here to know or see the chart given below or call Airtel customer care)
Click on the banner that says – "Got A New Phone?…"
Then you'll see the offer that – Recharge 1GB internet, get 9GB additional on the app. Click the [1GB] button to its right.
Then enter right amount of 1GB data pack and pay the amount with any available payment mode.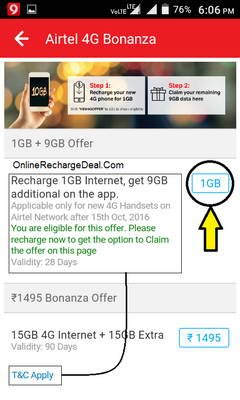 Points to be noted – 
As this is a handset bundled offer, you may lose the free data, if the sim is inserted in other phone / dongle.
Free data is expired within 28 days.
In next 2 recharges of 1GB (with marketed price rate), will credit extra 9GB data instantly.
Unused promotional data is not carried forward with the next recharges.
Promotional data can be used any time of the day.